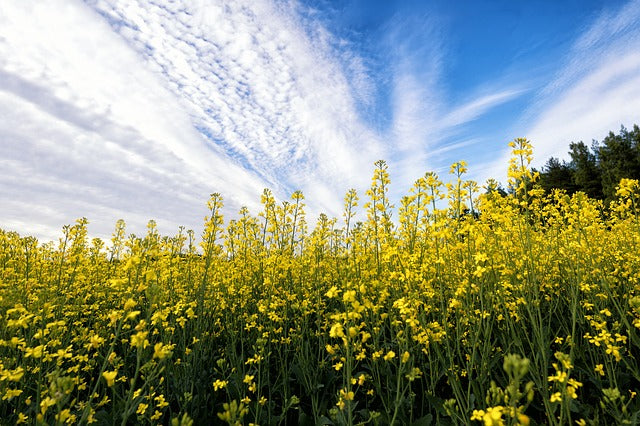 Black Mustard
Brassica nigra
Annual Growing herb
Originally from the Middle East
Join Gulzaar foods as we discover the potential of BLACK MUSTARD!
Appearance and description
An upright plant, the mustard plant is branched and grows up to 2m tall
Large stalked leaves which are waxy
Covered with bristles at the base and smooth at the stems
Reaches up to 90 centimeters
Flowers have four yellow petals
Each stem four flowers at the top that forms a ring around the stem 
The plant forms seed pods with four seeds
Once the fruit ripen, on maturity the seeds burst out into the open
One fruit produces more than a thousand seeds
The seeds may be black or reddish brown
 USES
Leaves of the young plant cooked or used in salads
Primarily known for seeds
Sauces and salad dressings
Flavor
The leaves and seeds are known to have quite a pungent taste that makes vinegar.
MUSTARD SEEDS Health Benefits
Mustard seeds are known to provide health for
Muscular pain 
Ringworm
Psoriasis
Dermatitis
Respiratory disorders
Different plant paths are beneficial in treating diabetes, cancer and detoxifying the body.
Poison repelling properties exert therapeutic effects maintaining cardiac health. This promotes healthy hair and skin. Lowers cholesterol and works wonders for women during menopause
 References

Brassica nigra (L.) K.Koch is an accepted name". theplantlist.org. 23 March 2012

. 

 O'Sullivan, Eve (17 February 2014). "How to cook with mustard seeds".
Allen J. Coombes The A to Z of Plant Names: A Quick Reference Guide to 4000 Garden Plants, p. 241