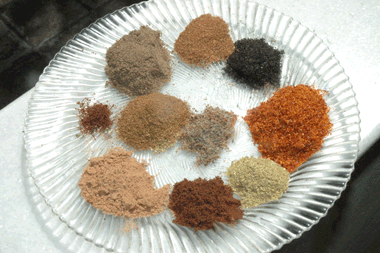 BAHARAT
Phenomenal Middle East Spice blend
All-purpose Spice
Just a pinch adds flavorful depth
What is Baharat?
What is in Bharat?
 And where do you find Baharat?
 It is quite challenging to find and is best prepared at home if you are not in a middle east region that is!
Join Gulzaar Foods on a journey of creating the ultimate spice blend, Baharat. The all-in-one house of full flavor!
BAHARAT Uses
A traditional seasoning of meats like chicken and lamb, it is also used for fish dishes.
An all-purpose seasoning, it can be added to almost any savory dish for enhancing flavor.
It is like the Middle East ''salt and pepper', a staple spice in the Middle East!
The versatility is evident as it is also a delectable rice seasoning and used for Biryanis and Pilaus. 
It is also used to flavor grilled meats in much the same way that barbecue marinades are used in the west.
There are world popular spices in the mix, so it can be used for stir-fries and will also add flavor to marinades and soups.
 BAHARAT Health Benefits
The use of Baharat improves digestion:

(Cumin and cloves help with gastrointestinal health and digestion)
(Black pepper improves digestion)
Blood pressure improves
Lower risk of diseases and strokes.
Vitamin A is a great component for better vision and preventing eye problems like cataracts and macular degeneration.
Piperine: The alkaloid in black pepper makes it pungent and spicy.
Cardamom and cinnamon essential oils
Vitamins: Black pepper and cinnamon are good  Vitamin A, niacin and  Vitamin B complex sources
Cloves provide vitamin K and vitamin C
Minerals: Black pepper and Cardamom are excellent mineral sources including potassium. iron and manganese.
Cloves contain minerals along with magnesium and selenium  Cumin is an excellent dietary fiber and contains compounds that are beneficial to gut health.

BAHARAT Spice Blend


Join Gulzaar Foods as we embark on the ultimate Middle East spice blend!
Black peppercorns- one tablespoon
Cumin seeds - one tablespoon
Coriander Seeds - two teaspoons
Whole Cloves - One teaspoon 
Cardamom Seeds: Half teaspoon
Paprika: One and a half tablespoons
Ground Cinnamon: One teaspoon
Ground Nutmeg: Quarter Teaspoon
Heat a skillet and dry roast all the whole spice and seeds for about five minutes.
Toss regularly to prevent scorching
Transfer to a bowl, allow cooling
Grind in a coffee grinder with paprika, nutmeg and cinnamon added
Store in an airtight jar
Heavenly spice for heavenly food.
Gulzaar Foods. House of full flavor!
References
https://it.wikipedia.org/wiki/Baharat
https://www.thespruce.com/what-is-baharat-spice-2355809