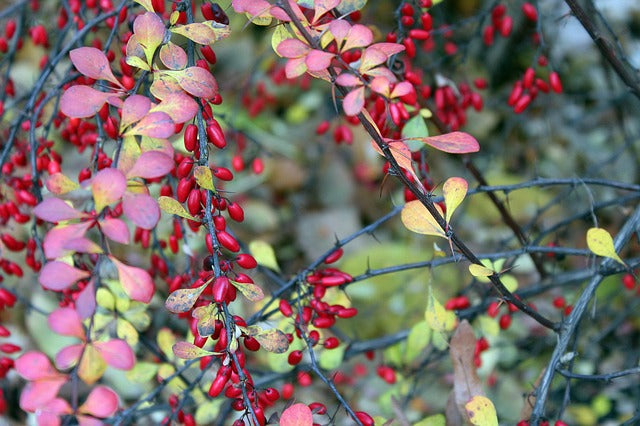 The evergreen, thorny shrubs have almost 500 species!
 Barberry bushes are common in Africa, in central Asia, in the Middle East and Europe too
 Also known as : 
The "Holy Thorn"
Barberry (Berberis)
Super  Red Jewels
  Native Americans taught settlers the value of Barberries. 
Ancient Egyptians used it to ward off plagues.
 In India, it was used to treat dysentery. 
Europeans used it for gallbladder and liver issues.
 Russian healers used it for high blood pressure, inflammation and uterine bleeding.
 You need to know more about Barberry! 
 Join Gulzaar foods on the road to discover why Barberry should be added to your medicine cabinet soon! 
Appearance and Description
Perennial herb, about 2.4 m tall and can grow up to 3 meters!
Bears yellowish flowers with red or blackberries and rounded fleshy leaves. 
Flourishes in the sandy dry soil in sunny locations
 BARBERRY Flavor
The  fruits are  rich Vitamin C sources and are edible with a sharp taste,
 BARBERRY Uses
The berries, the bark, and the root are used for medicinal properties.
Cleanses the gut
Cleanses the liver
Boosts heart health
May even prevent diabetes and cancer
BARBERRY health benefits
Fights Infection
Gastrointestinal Tract Aid
 Treats and prevent Diabetes
Heart Health Improvement
Cleanses  Gallbladder and liver
References
Duke, James A. The Green Pharmacy.New York: St. Martin's Paperbacks, 1998.
Birdsall, Timothy and Gregory Kelly. "Berberine: Theraputic Potential of an Alkaloid found in several Medicinal plants." In Alternative Medicine Review [online database] Vol. 2, no. 2 (March 1997). <http://www.thorne.com/altmedrev/fulltext/berb.html.>