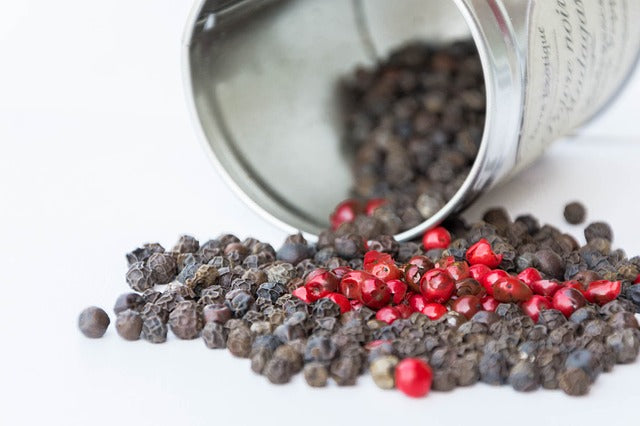 Black Pepper
(Piper nigrum)
Peppercorn
Lifelong partner of salt
 from the Piperaceae Family
Native to Kerala in Southern India
A common spice used all over the planet
Join the Gulzaar Foods journey into lands of the black pepper plant fruit!
Appearance and Description 
From a climbing vine, the fruits are actually berries, small and round. They are dried after they ripen, turning from green to red and eventually brown.
Pepper, salt's lifelong partner is a condiment on many western labels. It adds a special flavor and enhances the taste of other ingredients.
Indigenous to the south of India, there are various types of peppercorns, green, black or white, depending on harvesting time.
Uses
A spice and a medicine
It adds flavor to meals
It enhances digestion
It has medicinal uses
It is a preservative and a perfume
The black pepper essential oil had many benefits too!
It has antibacterial properties that preserve food  and it  serves as an anti-inflammatory as well
Flavor
An earthy pungent flavor and a sharp aroma with a tinge of spicy heat. Black pepper stimulates appetite with a gentle warm taste.
Black Pepper: Health Benefits
A rich source of vitamins and minerals
Copper, Manganese, Calcium, Magnesium, Iron, Phosphorous, Potassium
Vitamins: B6, C, K
Dietary fiber and moderate carbohydrates and protein
 References:

Piper nigrum". Germplasm Resources Information Network (GRIN). Agricultural Research Service (ARS), United States Department of Agriculture

 "Pepper (noun)". Online Etymology Dictionary, Douglas Harper. 2016.