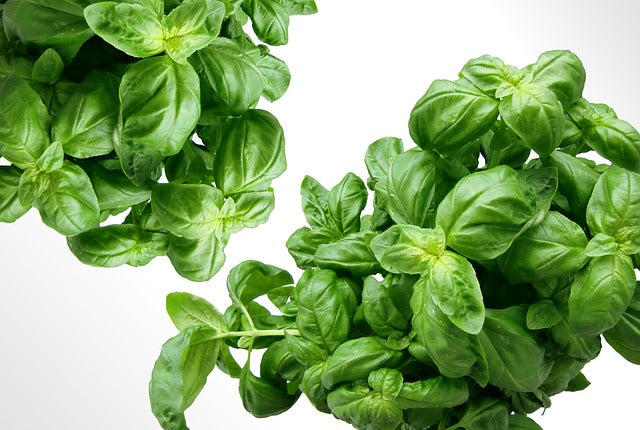 BASIL: The King of Herbs
Derived from the Greek term  "basileus", meaning Royal
 Found in Egyptian tombs that buried Kings  
The royal herb with superhero powers. 
There are thirty-five various  Basil types.
Why not tag along on this royal Gulzaar Foods journey on the basil discovery route? 
Appearance and Description


Green Leaves
Belongs to the mint family 

There are various types of basil inclusive of:
Lemon Basil
Sweet Basil
Curly or Italian Basil
Thai basil, holy basil
Lettuce-leaf basil.
Flavor
Smell and flavor varies and is dependant on chemical components and essential oils contained. 
Clove-like sweetness and pungent 
Uses
Mediterranean and Italian, Vietnamese, Indonesian and Thai cuisine. 
Dried basil, fresh basil or basil that is oil infused adds a dazzling basil flavor and benefit to healthy meals like: 
Sautéed vegetables 
Sauces 
Flavor stews, 
Fish and meat 
Eggs 
Pasta 
Dressings 
Herbal teas 
Flavor liqueurs 
Mixed drinks 
BASIL Health Benefits
Essential oils present in basil include

Citronellol
Linalool 
Eugenol. 

These oils inhibit enzymes, the root of many diseases like rheumatoid arthritis and heart diseases.
Liver Function and Body Detoxification 
Alkalize and Digestion Improvements 
Metabolic Syndrome and Diabetics prevention 
References
 J. Janick (ed.), James E. Simon, Mario R. Morales, Winthrop B. Phippen, Roberto Fontes Vieira, and Zhigang Hao (1999). "Basil: A Source of Aroma Compounds and a Popular Culinary and Ornamental Herb. In: Perspectives on new crops and new uses"

 

Ambrose, Dawn C. P.; Manickavasagan, Annamalai; Naik, Ravindra (25 July 2016).

 

Leafy Medicinal Herbs: Botany, Chemistry, Postharvest Technology and Uses. CABI.

 

ISBN 9781780645599.

 

Archived

 

from the original on 21 April 2017.

Robin Nelson-Shellenbarger (25 February 2013). 

Family Herbal Wellness

. Booktango. pp. 38–. 

ISBN

 

978-1-4689-2481-7

. 

Archived

 from the original on 12 October 2013

. Retrieved

 

2 August

 

2013

.